Root Cellars Rock loves edible wild plants! If you haven't seen it yet, check out Costa's series on foraging for them in NL- A Taste of the Wild Side. For our Edible Wild Plants Workshop we used several local and regional guidebooks as key resources. Always remember- if you are in doubt of the identity of an edible wild plant, consult a guidebook first, and if still in doubt- DON'T EAT IT!
If you're interested in foraging, we recommend that you pick up several local guidebooks and take them with you each time you collect edible wild plants. Look for ones with multiple identification photos or line drawings of more than one part of the plants. Guidebooks that note which plants are edible are particularly useful.
You can take one guidebook on the trail and then use other guidebooks to double check at home before eating new plants. Experienced foragers have recommended confirming new plants in as many as three guidebooks or with multiple local experts before eating something unfamiliar.
The following guidebooks are available through the Newfoundland and Labrador public libraries and most can also be purchased from local bookstores and online: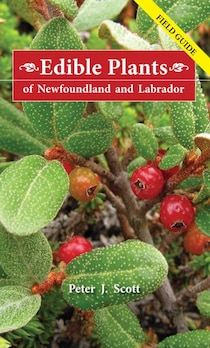 Edible Plants of Newfoundland and Labrador by Peter J. Scott
Trees & Shrubs of Newfoundland and Labrador by Todd Boland
Plants and Wildflowers of Newfoundland by Michael Collins
Native Trees and Shrubs of Newfoundland and Labrador by A. Glen Ryan
Field Guide to Edible Wild Plants by Bradford Angier
A Field Guide to Edible Wild Plants: Eastern and Central North America by Lee Allen Peterson
An Illustrated Flora of the Northern United States and Canada by Nathaniel Lord Britton and Addison Brown
Native Wild Plants of eastern Canada and the adjacent northeastern United States by F. H. Montgomery
Edible Garden Weeds of Canada by Adam F. Szczawinski and Nancy J. Turner
Wildflowers of Newfoundland and Labrador by Peter J. Scott and Dorothy Black
Wildflowers of Fogo Island and Change Islands by Todd Boland
Edible and Medicinal Plants of Canada by MacKinnon et. al.
MUN Botanical Garden is also an excellent resource. They are highly knowledgeable about the plants of this province and available to assist people interested in learning more. Visit their website or their Facebook to get connected.
If you are using a guidebook that we haven't listed that you find useful while foraging in Newfoundland and Labrador, please let us know so that we can add it to our list. Email info@rootcellarsrock.ca.