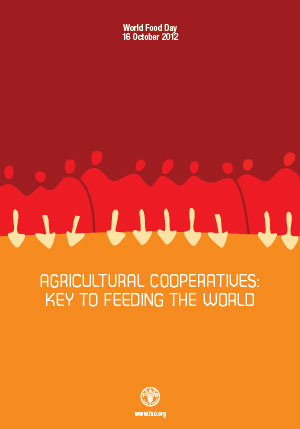 World Food Day is held internationally every year on October 16th. It was established in 1979 by the Food and Agriculture Organization of the United Nations (FAO). The official World Food Day theme, announced each spring by the FAO, is "Agricultural cooperatives – key to feeding the world". It has been chosen to highlight the role of cooperatives in improving food security and contributing to the eradication of hunger. To find out more about World Food Day globally, visit www.fao.org/getinvolved/worldfoodday/en/
World Food Day is a chance for communities in Newfoundland and Labrador to celebrate food and raise awareness of food security issues in our province. This year for World Food Day 9 events are happening in 8 communities across the province in October!
Two events have already taken place:
The Labrador Grub Hub, Happy Valley-Goose Bay food security organization, partnered with a local church to hold a successful Thanksgiving World Food Day food drive last week. Food was collected as part of a regular 'Good Food Box' program at the Happy Valley-Goose Bay Community Outdoor Market, as well as at the church on Thanksgiving Sunday. Contact Jill Airhart to get involved with Labrador Grub Hub.
School garden organizers in Harbour Breton held a World Food Day garden harvest celebration on October 3rd.
Public Events
1. World Food Day Gardening Workshop and Local Food Meal (Riverhead)
When: Tuesday, October 16 Time: 10:30 am Where: Father Val Power Learning Centre, Riverhead, St. Mary's Bay
The Father Val Power Learning Centre is hosting a gardening workshop with guest speaker Tony Brunetti. Followed by a free, local food meal of homemade soup with vegetables from the community garden and desserts using local berries. Stay afterwards for a community garden tour. Contact Sheila Lee at fvplc@hotmail.com or 525-2260.
2. World Food Day Food Drive (Hopedale)
When: Wednesday, October 17
Various organizations in Hopedale, Labrador, are collecting non-perishable food items in recognition of World Food Day. The food will be collected on the 17th and donated to families in need. Please contact Christine Vincent at christine_vincent@nunatsiavut.com for more information.
3. Fourth Annual World Food Day Movie & Meal (St. John's)
When: Friday, October 19 Time: 6pm – 9pm Where: Gower St. United Church, St. John's Cost: $15 or pay-what-you-can
The Meal: a three-course meal made of local ingredients showcasing fish, vegetables, & fruit of Newfoundland & Labrador.
The Movie: END OF THE LINE, an eye-opening documentary looking at the impact of overfishing on oceans www.endoftheline.com
Proceeds from the event will support community-based food security projects. To reserve seats contact Rick Kelly at richardkelly@foodsecuritynews.com or call (709) 237-4026. Vegan/vegetarian options available. Hosted by the Food Security Network NL, Oxfam, and the Community-University Research for Recovery Alliance (CURRA).
4. World Food Day Community Garden Potluck Picnic (Carbonear)
When: Saturday, October 20 Time: 1:00 pm Where: St. Patrick's Community Garden, St. Clare Avenue, Carbonear
The St Patrick's Community Garden in Carbonear is hosting a potluck and garden clean-up event. Guests are asked to please bring along something cold: sandwiches, salads, finger foods, snacks, etc. Refreshments, tea, and coffee will be provided. Gardeners will clean up the beds and walkways, compost plant materials, and spread more mulch around the garden. As well, gardeners can guarantee their spot for next year and discuss ideas for next Spring.
In the case of poor weather the event will be delayed until Saturday, October 27th. See The community garden Facebook page for more information: www.facebook.com/groups/stpatsgarden/
5. Second Annual World Food Day Harvest Party at the Blow Me Down Community Garden (Corner Brook)
When: Sunday, October 21 Time: 1:00 pm- 4:00 pm Where: Blow Me Down Cross Country Ski Lodge, Lundrigan Drive, Corner Brook
The Western Environment Centre is hosting a Harvest Party that will feature a local food potluck, music and even some healthy competition. Community gardeners and the public are invited to submit an entry in one or all of the 4 contests including: 1) Funniest Looking Vegetable; 2) Kids Food Art; 3) Adults Food Art; and 4) Best Prepared Food. All submissions should include at least one local ingredient, preferably home grown.
All are welcome and admission is free! For more information about the community garden or the Harvest Party, please contact The Western Environment Centre at info@wecnl.ca or 639 0937.
6. St. Bonaventure's College World Food Day Hunger Banquet and Movie (St. John's)
When: Tuesday, October 23 Time: 6:00 pm - 9:00 pm Where: St. Bonaventure's College Cost: $20
The St. Bonaventure's College Social justice Committee is hosting a hunger banquet in recognition of World Food Day. A Hunger Banquet is an educational event where guests gain greater understanding of the problems of global hunger and poverty. Students will be serving, cooking and cleaning up for this event. All proceeds raised from this event will go to local food initiatives.
After the meal guests will enjoy a screening of "...And This Is My Garden", an inspirational documentary film about the power of education to foster healthier lifestyles and to reconnect youth to the earth. The film follows two teachers in Wabowden, Northern Manitoba, as they empower their students with the knowledge, discipline and skills to grow their own food sustainably in backyard gardens.
Contact Chris Peters at cpeters@stbonaventurescollege.ca for more information.
---
Non-Public Events
Peterview Family Resource Centre Fourth Annual World Food Day Family Supper
Participants of the Peterview Family Resource Centre will assist in the preparation of a World Food Day meal to be shared with family members at the centre.  The meal is free of charge but family members will donate non-perishable food items. Contact Sue Mercer at evcc@nf.sympatico.ca for more information.